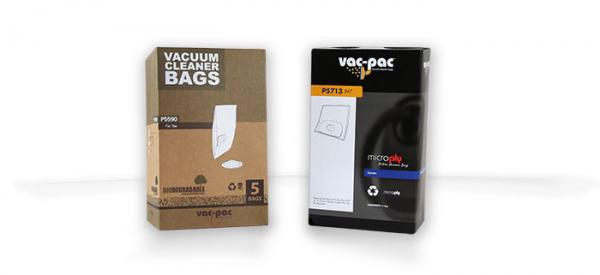 The only brand name in vacuum cleaner bags you ever need to remember: vac-pac.
vac-pac™ is owned by Vac-pac International Ltd, whose mission is simple, to provide consumers with the most comprehensive range of high quality, fairly priced vacuum cleaner bags.
Vac-pac International Ltd recognises that vacuum cleaner bag merchandising in many electrical appliance stores is a problem. There is often a variety of different brands in different coloured packs. These contain different quantities of bags with varying quality, shape and size. This makes ranging not only difficult and untidy for retailers but also a nightmare for consumers to select from.
Vac-pac International Ltd sees the need for retailers to have access to a TOTAL category solution, from product range depth and visibility of branding through to width of merchandising options and a quality delivery service. Through its network of international distributors, Vac-pac International Ltd provides that solution.